Your Camino journey does not have to end in Santiago. The "Costa da Morte" or Coast of Death is only a short hop away and well worth a visit. While it is possible to walk there on el Camino over 5 days, many people don't have the time to extend their walking trip.
This guided day-trip is perfect for those that want to visit the famous Finisterre ("Finis terrae" or end of the world), and discover hidden treasures along the Galician coast.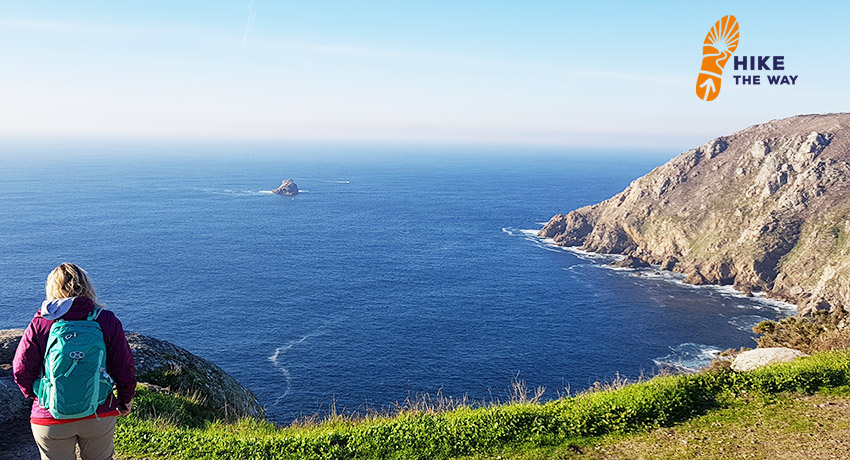 You will leave Santiago de Compostela early in the morning on a private mini-bus with your guide towards the Costa de Morte on the Atlantic Ocean and the villages of Muxía, Fisterra, Ezaro and Muros. 
In Muxía you will visit the baroque Sanctuary of the Virgen of the Boat (A Virxe da Barca), surrounded by granite rocks, where legend has that the Virgin Mary arrived on a boat. You'll learn all about the local legends that attribute healing properties to two of the largest rocks.
Your next stop will be Finisterre, or more specifically Cape Finisterre. You'll be right at the famous 0Km mile marker for the Camino.
The view from the cape and the surrounding landscape is impressive and you can truly see how people thought that this was the end of the Earth before Columbus' time.
Your guide will tell you all about the history of this place, the legends and mysticism that surrounds it, its lighthouse and the octagonal tower.  
You'll leave Finisterre behind, traveling south by the ocean on the most scenic section of the trip until you arrive at O Pindo Mountain, where the landscape is dominated by enormous granite rocks. At the foot of the mountain you'll be able to admire the magnificent waterfall of O Ezaro, the only waterfall in Europe that falls directly into the Ocean.
You will continue your trip along the coastline by the beach of Carnota until you reach the fishing village of Muros, where you will have free time to walk around, visit the town and eat a late lunch. There are plenty of options to sample the local cuisine with delicious seafood and fresh fish. This town dates from the 10th century and has a fantastic old section with lots of iconic buildings. 
All good things must come to an end, so after lunch we will head back to Santiago de Compostela, where you will arrive in the early evening around 6pm. An ideal ending to your Camino experience!
If you want to add this day-trip to any of your Camino tours, let us know.